It is an online challenge involving the change of your body, your mindset and supporting development of good and healthy habits.
Are you obese and you do not know how to change it? Are you looking for a permanent weight loss? Do you want to gain more muscles and improve your condition? The Spring Challenge is the answer! All is possible even online if you work with us.
12th Year of The Spring Challenge
Motivational distant competition involving transformation of your body and improvement of your muscularity.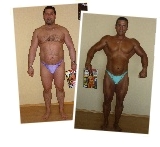 Are you looking for answers which were successfully addressed by many before you? Do you feel lost in thousands of opinions and approaches to the permanent weight loss? We have a proof that what we do is 100% right and correct. Join us in The Spring Challenge and you will join many successful men and women who simply followed our advice and reached desired results. Gift yourself with a healthy body and a good mood. Accept the challenge!
Julius Karabinos in the regional TV talking about the weight loss, trainings and competitions aimed at the weight loss and body conditioning.
A January invitation to The Spring Challenge
There are no magic pills! It is only cheap advertisement of short term results. The core of the long term and healthy body loss is a proper diet, change of your eating habits, training with weights and anaerobic exercise.
You do not know what does it mean? Accept the Challenge and you will find out.
The Spring Challenge is organized by Julius Karabinos, a professional fitness coach and master class nutrition advisor:
more than 3600 clients since 2001,
prepared and coached many winners and participants of various weight loss and body transformation competitions,
Winner of the IN SHAPE 2000 organized by MUSCLE & FITNESS,
Winner of the IN SHAPE 2001 organized by MUSCLE & FITNESS,
Winner of the DREAM BODY 2003 organized by FITNESS Magazine,
Winner of the GRAND PRIX 2004 organized by the World of Bodybuilding,
World Champion in natural bodybuilding 2013 and 2014,
European Champion in natural bodybuilding 2013 and 2014,
Silver medal at the Natural Olympia 2013, San Diego, USA,
Coach of many successful bodybuilders and fitness competitors .
Why should you accept The Spring Challenge 2019?
You will fid the right motivation to loose weight.
You will be kept on the target.
You will not be alone. There will be many other accepting the Challenge.
You can compete from every country around the world.
You will get your individual training plan and your individual nutrition plan.
You will get a personal attention and advice in regard to your gym workouts.
Do you really want to join us?
Do you have more questions?
Get in touch and talk to your personal coach Julius Karabinos, e-mail: Táto e-mailová adresa je chránená pred spamovacími robotmi. Na jej zobrazenie potrebujete mať nainštalovaný JavaScript.
The Spring Challenge will run from 1.3.2019 till 1.6.2019.
Deadline for Entry Forms - 28.2.2019.